About the Rock Hoppers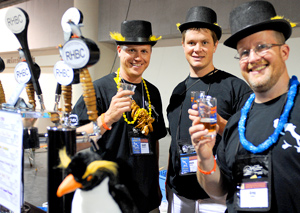 The Rock Hoppers Brew Club is one of Colorado's newest homebrewing clubs. It all began in late 2007 with a call out to area homebrewers by Jim Stinson, head brewer at the Rockyard American Grill and Brewing Company, located in Castle Rock, just south of the Denver-metro area. Desiring to have a local club and pay homage to his homebrewing roots, Jim was instrumental in securing sponsorship from Rockyard, who provide meeting and event space for the club.
By its sixth month in existence, the number of members had swelled to well over 30. In March 2008, the loose conglomeration of people began to organize a bit, voting in three officers: a President, an Event Director, and a Communications Director. In April 2008, the American Hombrewers Association officially recognized RHBC as a club.
Today, the club is growing by the month, with membership swelling above 50 as of this writing. Members, who come from every slice of life and brewing ability, come together once a month at our general meeting to share stories, plan events, and sample the fruits each others brewing labor. Strong friendships and brewing bonds have been forged since our inaugural year, with many "brew with me" days, brewery tours, and beer-related vacations happening between meetings.
In 2009, five members kicked off an annual tradition at the AHA National Homebrewers Conference of representing the club during Club Night and serving member-brewed beers at the conference's hospitality suite in Oakland, CA.
In 2010, that tradition continued with another visit by a contingent of Hoppers at NHC, this time in Minneapolis, MN. One beer writer was so impressed by the selection, quality, and uniqueness of the beers we served at club night, he wrote an entire article about it.
The tradition continued in 2011 at the San Diego location and 2012 in Seattle!
A major achievement yet is the club's hosting of an AHA sanctioned homebrewing competition. Entitled Biere de Rock, the competition centers only Belgian and French styles, and is held yearly in early December.
Not a month goes by without at least one club sponsored event. A highlight in 2009 was a private tour of New Belgium Brewery hosted by none other than Brewmaster Peter Bouckaert. A highlight in 2010 was the July 1 grand opening of a local micro brewery, Elk Mountain Brewing Company, by one of our members, Tom Bell. A 2013 highlight is the grand opening of Castle Rock Homebrew Supply by member Eric Seufert, who has generously offered his shop as our meeting place.
Other activities include:
Sponsorship of a annual golf tournament to benefit a the Colorado Red Cross.
Yearly participation in AHA events such as Big Brew Day and Learn to Homebrew Day.
Yearly participation in the National Homebrewers Conference by officers and other members.
A BJCP study group, meeting bi-weekly.
Club Barrel Brews.
Annual sponsorship of a BJCP exam.
Annual hosting of an AHA sanctioned competition.
Attendance and volunteer organization and participation at the Great American Beer Festival.
Annual gatherings such as the Hopp-o-Ween Party.
Building and maintaining the Hopper Hop Yard, a hop garden on the Rockyard Brewing Company grounds.
Touring of local breweries. Thankfully Colorado is chock full of 'em.
Since the club's inception, members have won awards in every major regional competition, a silver medal in the 2009 AHA National Homebrew Competition, a gold medal in 2011, and another silver medal in 2012. Many members have had their recipes brewed at the commercial level and entered into the GABF Pro-Am competition.
Cheers!